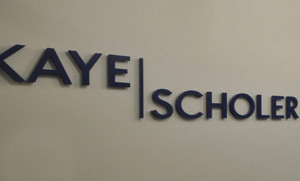 A former Kaye Scholer associate who was hired to support business development has sued the law firm, alleging at least $21 million in damages, claiming she was treated differently because of her gender, her sexual orientation and her advocacy in the LGBT community.
Bari Zahn, in Zahn v. Kaye Scholer, 152625-2015, claims that her job duties as a senior associate were to develop business across all practice areas. According to the complaint, filed in Manhattan Supreme Court, Zahn met or exceeded her business development goals, bringing in close to $2 million in revenue and millions of dollars in future work to Kaye Scholer from clients she developed and originated, including Kenneth Cole, Toyota Financial Services and Merisant.
She said her base salary was $75,000 from 2009 through 2013, and while Kaye Scholer increased her pay to $175,000 for 2014, the firm simultaneously eliminated her potential commissions for collections under $1 million.
Zahn alleges that, although she performed the same or similar job functions as many straight, male counterparts, she was not given the same support, payment or respect. She says the base salaries of the firm's male employees who perform similar jobs ranged from $500,000 to more than $1 million a year.
Zahn, represented by Erica Kagan of the Kurland Group, is suing for discrimination, wrongful termination, unlawful retaliation, unequal pay, negligent supervision and training and breach of contract.
In a statement, Kaye Scholer said it is "a law firm of choice for LGBTQ attorneys and professional staff. The allegations of discrimination and all other allegations of wrongdoing by Bari Zahn are without merit, and we will take all necessary steps to have these claims dismissed."
Read more: http://www.newyorklawjournal.com/id=1202721122016/ExKaye-Scholer-Associate-Files-21-Million-Bias-Suit#ixzz3VWNCqXQC