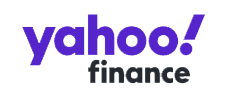 Kali Hays
Bloomberg L.P. is again being accused of discriminatory workplace practices, this time by a current employee who is joining the lawsuit of a former reporter.
Naula Ndugga, currently a news producer for Bloomberg's Quicktake vertical, is now part of the discrimination lawsuit filed in August by Nafeesa Syeed. She joins Syaeed's allegations of pay and promotion practices that undermine women, and generally being subjected to a hostile work environment for women of color run by an all white and almost entirely male leadership team. But she laid out her specific experiences over three years of work in a revised complaint filed in court Friday night.
"Despite receiving positive feedback, Ndugga has repeatedly been overlooked for raises, promotions, favorable assignments, professional growth, and opportunities that were given to her male peers," the complaint alleges.
Ndugga claims that she's been paid less than her male peers since she started working at Bloomberg, first as an intern for $25 an hour and then full-time as a news producer for $65,000 a year. Men who were hired out of the same internship program got starting salaries of $75,000.
Ndugga has received one raise of an additional $1,500 a year during her time at Bloomberg, putting her current salary at $66,500, according to the complaint. Although she's had positive performance reviews, the complaint claims she has seen at least 18 male peers receive higher pay and raises and been recommended for another raise the last two years by a senior male producer.
"Ndugga reported these disparities in treatment to human resources, who merely defended management's decisions," the complaint reads.
The updated complaint comes after Bloomberg urged the court to dismiss Sayeed's lawsuit last month, stating that many of her claims were barred by the statute of limitations or by her having worked for Bloomberg only in Washington, D.C., and abroad while filing a lawsuit based on New York statutes.
As for the case also being filed against Bloomberg's all-male editorial leaders as defendants, Bloomberg argued that the case should be dismissed against them, too, as it "fails plausibly to allege that any of the individual defendants participated in, or even knew about, the alleged discriminatory conduct." Founder Michael Bloomberg is not named as an individual defendant.
A Bloomberg representative could not be reached for comment on the updated complaint.
Now, Sayeed and Ndugga are also represented by Cohen Milstein Sellers & Toll, a major plaintiff-side litigation firm in Washington that has worked on behalf of residents of Flint, Mich., in their lawsuits over water quality, in addition to the smaller Clancy Law Firm, which has brought other discrimination lawsuits against Bloomberg. The updated compliant includes new federal claims of discrimination under Title VII of the Civil rights Act. The initial complaint only claimed violation of state laws.
Beyond pay and promotion disparities, Ndugga claims discrimination went to the core of her work. When executives decided to give producers content by theme, male peers were asked which themes they preferred to cover, and Ndugga said she was not. Instead she was assigned the "scraps" that no one else took.
When she was again denied a raise in February, Ndugga pitched that she might move into a new role focused specifically on race and identity within her production team. She was allegedly rejected because she "already filled that role by being a Black woman on the team." Meanwhile, the word "colored" was allegedly used in news scripts, according to the complaint.
In another instance, Ndugga asked a white male executive producer, David Meyers, why a video on global marathons included coverage of Uganda that depicted a white woman "holding seemingly impoverished Black Ugandan children." Instead of discussing the issue, the producer allegedly yelled, threw his headphones in Ndugga's direction and demanded that she go talk to him outside. She refused and the following day he emailed her, along with their boss Mindy Masucci, global content leader of Quicktake, saying she could report him to HR "if she felt so inclined," while also accusing her of being "aggressive" and depicting her as an "angry Black woman," according to the complaint.
This incident allegedly resulted in the executive producer boxing her out at work, not inviting her to staff meetings and cutting her off of emails, to the extent that her coworkers began forwarding them to her "so she would be aware of information needed for her job."
Her complaints were allegedly ignored. But at the end of May, she was scheduled to conduct an on camera interview with a source to discuss the police killing of George Floyd, booking her guest and getting training. The interview was suddenly canceled and Ndugga was told "only 'certain people' were qualified to conduct live interviews," despite men with similar levels of experience being allowed to do so, according to the complaint.
Overall, Ndugga claims Bloomberg's all white and male editorial management committee have "refused repeatedly" this year to cover topics of race, "saying they didn't want to "become the race channel." She tried to bring up the issue of diversifying coverage on a call with editor in chief John Micklethwait and was again ignored. And yet, Ndugga claims that she's been asked "many times" to "recount her own trauma, as a Black female to 'help guide the team,' only to be trivialized and mislabeled."
Although Ndugga is currently employed by Bloomberg, by joining Sayeed's lawsuit, she is seeking a declaratory judgment that Bloomberg has violated Title VII, engaged in discriminatory practices, and for damages of no less than $5 million. The women are still seeking class action status, to include similarly situated past and current Bloomberg employees.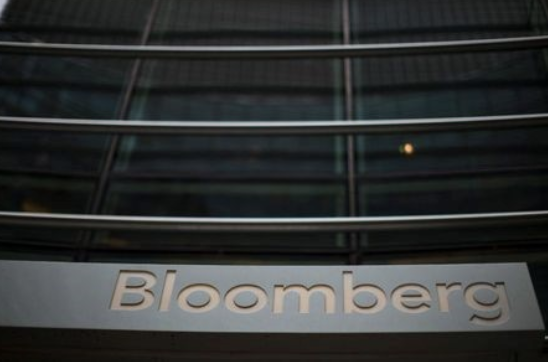 (Reuters) – A former Bloomberg LP national security reporter has filed a proposed class action accusing the company of perpetuating a culture in which women and minorities are undervalued and promoted and paid less than white men.
The reporter, Nafeesa Syeed, in a complaint filed in Manhattan state court on Sunday said she was deprived of high-profile assignments and ultimately forced to quit in 2018 because of a "caste system" that permeates the company.
Bloomberg spokesman Ty Trippet on Monday said the company had no record of Syeed filing a complaint at any time during her employment. He did not comment on the broader claims in the lawsuit.
New York-based Bloomberg is a competitor of Thomson Reuters.
Donna Clancy of the Clancy Law Firm represents Syeed as well as Laurie Evans, a former sales worker at Bloomberg who filed a lawsuit last year in the same court claiming she was fired after taking leave to undergo treatment for breast cancer. Bloomberg has denied Evans' claims and moved to dismiss the lawsuit.
The company and its founder and chief executive, former New York City Mayor Michael Bloomberg, have for years faced accusations of systemic discrimination against women.
Last year, Michael Bloomberg's now-defunct presidential campaign brought renewed scrutiny to dozens of discrimination and harassment lawsuits that women and government agencies had filed against him and the company since the 1990s. He and the company denied the claims.
Syeed in her complaint says she was hired in 2014 as a politics and economy correspondent in Dubai, after two years of being turned down for other positions with the company in Asia and the Middle East.
She was transferred to Bloomberg's Washington D.C. bureau in 2016 to report on national security, where she was the only woman on the team and was paid less than male colleagues, according to the complaint.
Syeed was passed over for multiple open positions covering foreign policy, including a job covering the United Nations that opened up in 2018, often in favor of white men, she said in the complaint.
A male editor told Syeed that she was passed over for the UN assignment because it had not been designated a "diversity slot" by the company, she said.
Syeed complained to a human resources official and quit in June 2018 after the company failed to address her concerns, according to the complaint. Since then she has worked as a fellow at the Center for the Advanced Study of India and the Institute for Advanced Study.
Syeed accused Bloomberg of sex and race discrimination and creating a hostile work environment in violation of New York state and city laws. She is seeking to represent a class of "similarly situated minority female employees."
The case is Syeed v. Bloomberg LP, New York State Supreme Court, New York County, index number not available.
For Syeed: Donna Clancy of the Clancy Law Firm
For Bloomberg: Not available
The Clancy Law Firm made the Top 20 Verdicts in New Jersey for 2019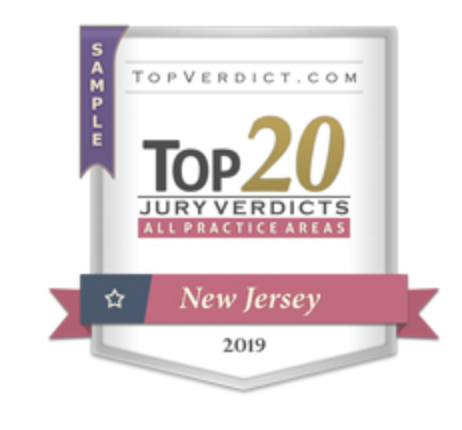 | | |
| --- | --- |
| Amount: | $2,260,000.00 |
| Attorneys: | Donna H. Clancy of Clancy Law Firm P.C.; Darren Audino of Bardsley, Benedict + Cholden, LLP; Vincent P. Manning of Manning, Caliendo & Thomson, PA |
| Case: | Bracken v. Torcon Inc. |
| Type: | Construction Accident, Personal Injury, Work Accident, Workplace Safety, Contractor Negligence, Negligent Tort |
Bloomberg Demands Woman Suing for Harassment Give Up Anonymity

The company said it already knows who is suing it, but thinks everyone else should know, too.
By Kali Hays on August 10, 2020
Bloomberg LP thinks people should know the name of the person who is accusing it of fostering a "toxic" workplace for women along with instances of harassment.
The media and finance terminal company demanded in New York court last week that the woman who sued it in early June — a former saleswoman who alleges during her 18 months with Bloomberg she experienced a "gender-biased" culture that is demeaning and prohibitive to women, was urged to "dress provocatively" and that female coworkers were ranked by "hotness," among other things — reveal her full identity in order for the case to go forward.   
$2,266,000 GROSS VERDICT – CONTRACTOR'S NEGLIGENCE – DEFENDANT GENERAL CONTRACTOR NEGLIGENTLY ERECTS WALLS BEFORE PLAINTIFF UNION ELECTRICIAN AND TEAM RELOCATE VERY HEAVY ELECTRICAL EQUIPMENT – PLAINTIFF AND CO- WORKERS REQUIRED TO LOWER EQUIPMENT ONTO DOLLY RATHER THAN TRANSPORT IT TO NEW LOCATION BY PALLET JACK – EQUIPMENT SWINGS OUT AND PLAINTIFF STRUCK IN ARM BY EQUIPMENT – BICEPS TENDON TEAR – THREE SURGERIES – INABILITY TO CONTINUE AS UNION ELECTRICIAN OR PERFORM ANY HEAVY WORK.
Monmouth County, NJ
In this action, the plaintiff union electrician, age 37 at trial, who was employed by a subcontractor at a hospital expansion project, contended that the defendant general contractor negligently placed walls before moving the approximately 800 pound electrical switch gears. The plaintiff maintained that if the walls had not been put up, the electrical switchgear could have simply be relocated by placing the equipment on a on a pallet jack and directly moving it. The plaintiff asserted that since the walls had been built, the switchgear was lowered onto a dolly by use of a chain hoist and slings that created an uncontrolled sudden movement of the switchgear in the swing zone. The plaintiff, who indicated he thought that the heavy item would strike another electrician, placed his arm up instinctively to block it and suffered a severe tear of the biceps tendon.
The plaintiff argued that there was no valid reason to erect the walls be- fore the equipment was moved. The plaintiff also contended that the walls could have been taken down at a minimal cost and that the de- fendant should have done so. The defense maintained that the plaintiff was an experienced electrician who used dollies to relocate heavy elec- trical equipment in the past and was clearly comparatively negligent. The plaintiff countered that the jury should consider that the defendant needlessly increased the hazard facing the plaintiff and that the defense position should be rejected.
The plaintiff suffered a biceps tendon tear to the left, non-dominant arm. The plaintiff claimed that despite three surgical interventions, he will per- manently suffer pain and extensive weakness. The plaintiff maintained that he will be permanently precluded from working as an electrician or other occupations involving heavy labor. The plaintiff made an income claim of as much as $2,700,000.
The defendant did not dispute that the plaintiff will be precluded from working at jobs requiring heavy labor. The defendant asserted, however, that the plaintiff could do a host of other jobs, such as a limo driver, and that his income loss would be as low as $145,000. The plaintiff pointed out that the defendant was partially basing its position on equating the plaintiff with a non-union electrician who would earn substantially less than the plaintiff union electrician and be subject to less work than the plaintiff, who was earning as much as $100,000 per year.
The jury found the defendant 75% negligent, the plaintiff 25% comparatively negligent and rendered a gross award of $2,260,000 that included $1,600,000 for economic loss and $660,000 for the injury and pain and suffering.
REFERENCE
Plaintiff's architect expert: Walter Greene, RA from Reading, PA. Plaintiff's economist expert: Royal Bunin from Wynnewood, PA. Plaintiff's orthopedic surgeon expert: Cary Skolnick, M.D. from Manalapan, NJ. Plaintiff's vocational expert: Helen Rader Smith from Towaco, NJ.
Bracken vs. Torcon, Inc. Docket no. MON-L-116-15; Judge Linda Grasso Jones, 02-13-19.
Attorney for plaintiff: Donna H. Clancy of The Clancy Law Firm, PA in New York, NY. Attorney for plaintiff: Vincent P. Manning of Manning Caliendo & Thomson, PA in Freehold, NJ.
COMMENTARY
The defendant argued that the plaintiff suffered the injury perform- ing normal duties involving the relocation of heavy electrical equip- ment during the hospital expansion project, stressing that he had
previously moved heavy equipment by hoisting it down onto a dolly. The plaintiff was nonetheless able to prevail and limit the finding of comparative negligence to 25%. In this regard, the plaintiff empha- sized that if the defendant had not increased the hazard by needlessly erecting the walls before the electrical equipment was moved, the switchgear would have been moved by forklift, obviating the hazard. Additionally, the plaintiff pointed out that even after erected, the walls could have been taken down, allowing the plaintiff and the co- workers to use a pallet jack.
Regarding damages, it was undisputed that the plaintiff cannot con- tinue as a union electrician. The defendant, however, maintained that the loss of income was minimal when comparing the earnings of an electrician to work the plaintiff could do, such as driving a limousine. The plaintiff, in countering this contention, argued that the defendant used earnings of a non-union electrician instead of a union member, arguing that the defendant's position should be rejected.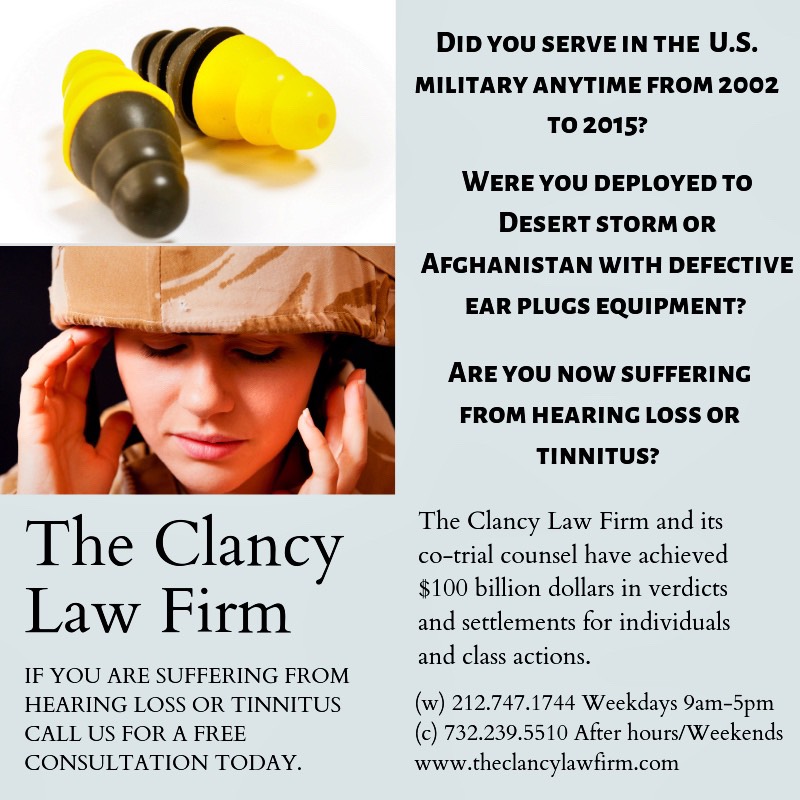 BUSINESS
Bloomberg saleswoman sues over rape, rampant drug culture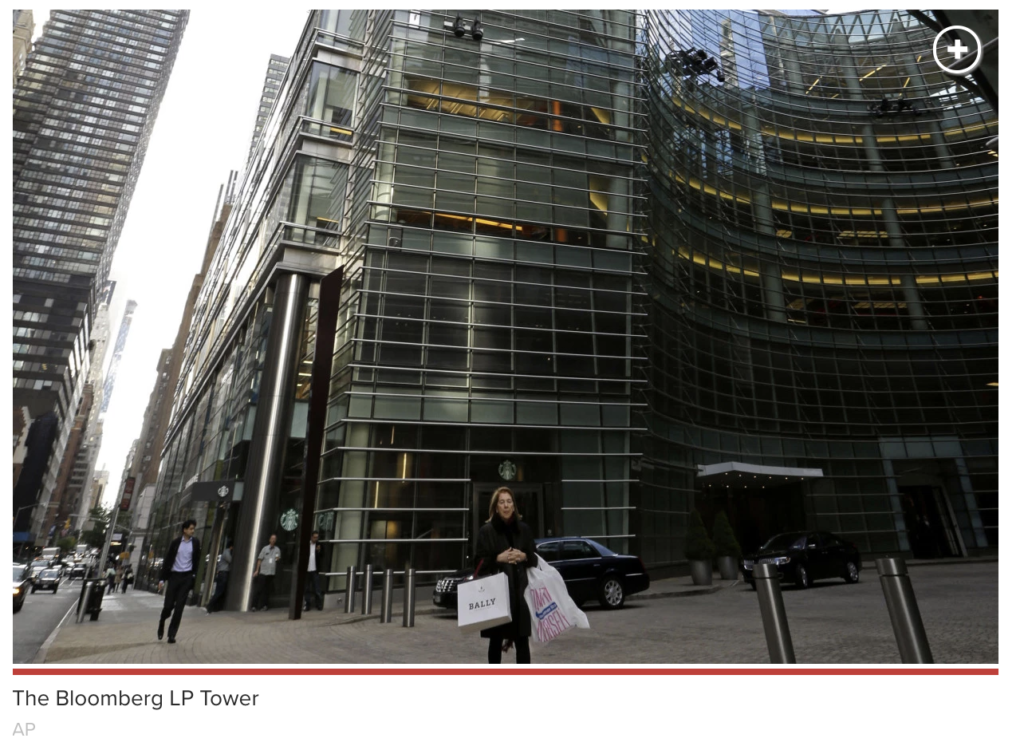 A former Bloomberg LP sales executive drugged and raped a saleswoman on his staff twice over a number of weeks, an explosive lawsuit claims.
The attacks by Nick Ferris, a former global business development head at the company, happened after work in February and March 2013 at his Manhattan apartment, the lawsuit claims.
The first attack happened after Ferris and his 22-year-old subordinate enjoyed drinks at a business dinner and then downed vodka and smoked pot at his apartment, the suit alleges.
The woman, whose identity is not disclosed in the suit, said she went to sleep in a guest bedroom after partying with Ferris and his girlfriend — only to be awakened in the middle of the night by the sexual attack, according to the suit, filed in state court in the Bronx.
Ferris has not been charged with any crime. The civil suit claims civil rights violations, a hostile work environment and sexual discrimination.
The woman, identified only as Margaret Doe, claims Ferris got her addicted to powerful narcotics after she started working at Bloomberg in September 2012 — which he withheld after the first attack until she agreed to go again to his apartment, it is alleged.
On the second visit to the apartment — after Ferris gave her narcotics while at work — he again raped her, the lawsuit claims.
The suit — which also names Bloomberg LP and its owner, former New York Mayor Michael Bloomberg, as defendants — also claims Ferris sexually harassed the woman, who sold subscriptions to the company's newsletters, and others. The suit seeks $20 million in damages.
In one such incident after the first attack, Ferris scheduled a meeting with the woman at a conference room at the company's Manhattan headquarters, it is alleged.
At the meeting, Ferris said he wanted to continue to have unprotected sex with her — and asked her "to use a condom with any boyfriend she had because he was having unprotected sex" with his girlfriend.
The woman claims that requests sent to human resources to move her desk were ignored, and she was later reprimanded during an investigation into another male Bloomberg employee who had harassed her.
The suit, which was filed in December but hasn't been reported on until now, alleges what it calls "The Bloomberg Drug Culture," in which Ferris "manipulated" the woman, for "personal and professional purposes," into taking drugs in order to reach sales goals.
Ferris would hide drugs throughout the Bloomberg office in a mailbox, a Tic Tac container and a book, it is alleged.
Once, Ferris sent drugs disguised as a Christmas present to the woman at her parents' Connecticut home, the suit claims.
Ferris improper behavior started during the first few months she was employed at Bloomberg, the suit alleges.
In that time, Ferris pushed the woman to attend boozy one-on-one work meals at Le Cirque — where he would remind her that her employment status was in his hands, it is alleged.
During these meals, where the two would dine alone, Ferris would improperly submit the check as a business expense, saying he was meeting with clients, according to the suit.
Ferris wasn't the only person to harass the woman, it is alleged. At a 2012 Christmas party at the home of Executive Editor Ted Merz, a second editor, Joe Brusuelas, made "lewd comments" and propositioned her to leave in a "private car," according to the suit.
[This reporter worked at Bloomberg under Merz from 2012 to 2014 and was present at the above-mentioned Christmas party. The reporter left early and didn't witness any of the behavior described in the complaint.]
Brusuelas, who's no longer at Bloomberg, declined to comment.
In February 2013, after two months of escalating approaches, Ferris took the woman out for drinks, where the two drank alcohol and he pushed her to take "pain pills," according to the suit.
It was after this business meal that the first rape took place, it is alleged.
After going to the guest room to sleep, the woman "awoke to find Ferris standing over her," the suit says. The woman "was lying half-off the side of the bed with Ferris holding her legs up towards him," court paper state.
After that, she "recalls looking down and seeing the dress she wore to work that day flipped up, only half covering her, and her underwear and tights removed."
The suit doesn't make it clear if the girlfriend knew about the alleged rape. The girlfriend, reached on her cell phone on Friday, declined to comment.
The suit goes on to claim other bizarre and inappropriate actions from the former Bloomberg manager.
At one point, he invited himself through a co-worker to the 50th birthday party of the woman's mother, the suit alleges. At the party in the family home, Ferris took pictures of the woman's family photographs and later Photoshopped a childhood photo of himself into the picture, it is alleged.
Ferris later sent the Photoshopped photo to the woman, the suit alleges.
In June 2013, months after the alleged rapes, Ferris underwent circumcision surgery, then "showed her graphic photos of his partially exposed penis wrapped in bandages, and remarked how his circumcision made him extra sensitive to 'good' vaginas," the suit claims.
The woman was also peppered for more than a year with inappropriate e-mails, it is alleged.
In one, he wrote: "You are beautiful, you are stunning. You look incredible naked."
The woman complained to HR but claims that requests to move her desk were ignored, it is alleged. In fact, the suit claims, she was later reprimanded by Merz during an investigation into another male Bloomberg employee who had harassed her.
Merz, who was in Nicaragua when reached on his cell phone on Friday, said, "I don't have a comment and I don't know anything about it," before hanging up on a Post reporter.
The woman, who currently lives in The Bronx, said that she experienced anxiety, depression, and ulcers from the stress of working at the company, and later filed for disability to attend an inpatient rehab in Philadelphia for people with eating disorders.
Ferris was fired from Bloomberg in December 2015 after a review of thousands of e-mails and interviews with several coworkers confirmed that he had an inappropriate relationship with the woman, a source said.
In court papers, Bloomberg LP denies that there is a Bloomberg drug culture — and all other allegations.
A lawyer for Ferris, who left Bloomberg in December 2015, says the allegations are a lie.
"We deny the allegations of the complaint, and we will be vindicated in court," Paul Shoemaker, Ferris' lawyer, told The Post.
Donna Clancy, a lawyer for the woman, declined to comment beyond the suit.
Ferris joined a Texas financial education company, Simpler Trading, last September as chief operating officer, according to a company announcement at the time.
A receptionist at the company told The Post on Friday that he no longer worked there.
(Dugan worked for Bloomberg from 2012-2014, including for some of the editors named in the suit but has no knowledge of any of the allegations.)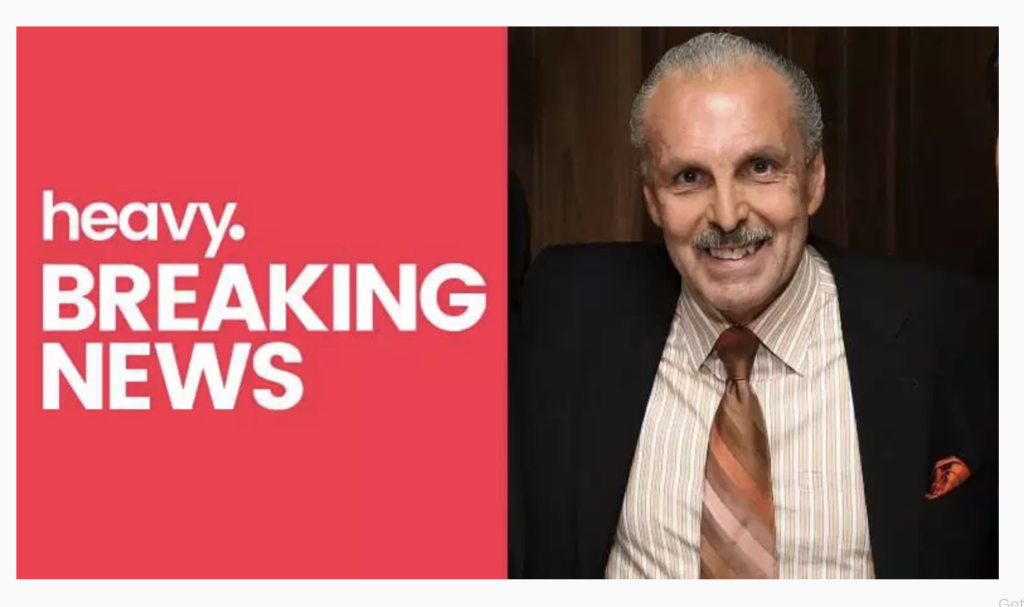 A former sports marketing executive at the New York sports radio station WFAN is suing the station, CBS Radio, two of its top sales department executives and midday host Joe Benigno, accusing them of sexual harassment, creating a hostile work environment, retaliation and discrimination
Lauren Lockwood, 40, filed the lawsuit in Kings County Court in Brooklyn on July 17. Lockwood says she was the target of unwanted sexual advances, unwelcome contact, assault, unwanted communications, innuendos, retaliatory action and eventually wrongful termination.
The 39-page lawsuit describes the sales department at WFAN as a frathouse-like workplace, with brawls between co-workers, alcohol flowing at corporate outings and events with potential clients, company-funded trips to strip clubs to try to win new business and rampant sexual harassment of women by superiors and colleagues. Lockwood claims in the lawsuit that the human resources department at WFAN ignored discrimination, harassment, drug use, alcohol use, gambling, workplace violence, workplace romantic relationships and affairs in violation of the company's policies, with HR Director Margaret Marion creating an "anything goes" atmosphere, which Lockwood's attorney called described with the terms, "wild west, 'Mad Men,' 'Animal House,' and sexist."
Benigno, 64, has worked at WFAN since 1995 and is currently the host of "Joe & Evan" with Evan Roberts on weekdays from 10 a.m. to 1 p.m. He is accused in the lawsuit of making unwanted advances toward Lockwood and retaliating against her after she rebuffed him.
The lawsuit also names Mark Zuckerman and Sean Argaman, two of Lockwood's bosses.
Lockwood's attorney, Donna Clancy, of The Clancy Law Firm in New York City, did not immediately reply to a request for comment from Heavy. Benigno, Zuckerman and Argaman also could not be reached for comment. A spokesperson for Entercom, the parent company of WFAN and CBS Radio, told the New York Post the company does not comment on pending litigation, but said, "we do intend to defend the company vigorously."
Benigno's agent, Mark Lepselter, told the New York Daily News, "Joe categorically denies the allegations. My father once told me on any story, always consider the source and those who live in glass houses. We're more than prepared to handle the situation if need be."
Lockwood, a University of Michigan graduate and former Detroit Tigers intern who started working at CBS Radio in 2004 and began selling ads for WFAN and the Yankees Radio Network in New York City in 2012, is seeking $5 million in damages. She was fired in 2017 after being punched in the face while trying to break up a fight between two of her co-workers who were arguing over the Floyd Mayweather-Conor McGregor boxing match, according to the lawsuit.
You can read the full lawsuit at the bottom of this report. Here are some of the accusations made in the lawsuit:
Benigno Is Accused of 'Whispering' in Lockwood's Ear About Having a Threesome With His Wife, of Showing Her a Photo of His Wife With a Prostitute & of Ranking Female Employees Based on Their Attractiveness
Joe Benigno is accused in the lawsuit of making unwanted advances and sexual jokes and innuendos toward Lauren Lockwood in 2015 and 2016, when she was working on the same floor where his radio show is broadcasted from. Lockwood says that during commercial breaks, Benigno would come to her cubicle "to flirt with her and ask her personal questions." He commented about her appearance, hair, jewelry and clothes, according to the lawsuit.
Lockwood says during those occasions, Benigno, "rubbed" her back and "whispered in hear ear about having 'threesomes' with him and his wife and prostitutes." He also talked about "having 'threesomes with him and his wife' and other females in the office," Lockwood says in the lawsuit.
At one point, Lockwood says Benigno described "in detail" the "threesomes" he had with his wife and a prostitute in Las Vegas. He also showed her a nude photo of his wife, Terry Benigno, with a prostitute and propositioned Lockwood to join him, his wife and a prostitute in sexual intercourse, Lockwood claims in the lawsuit.
Lockwood also claims Benigno told him about his fantasies about the company's HR director, saying he can picture her being "wild in bed" and "hanging upside down from the chandelier," according to the lawsuit. She also says Benigno admitted to having an affair with an unnamed female sales assistant. Lockwood claims the affair was well known around the office for two years.
Benigno also "frequently gawked at female employees and rated them on their physical appearances," Lockwood claims. He told Lockwood, besides her, another woman was his favorite because she was "gorgeous and cool," and then said two others were also in his "top 3," saying they are "beautiful," and the "body" on one of the women, "oh God."
Lockwood also claims Benigno "flirted" with various female employees, telling one of the women he likes some "meat on the bones" and telling her to "shake it." According to the lawsuit:
Benigno's office had a collage of Sports Illustrated bathing suit models plastered all over, along with a wall of photographs of female employees, and blown up photos of himself in the middle of these female employees, with personalized signatures from the female employees.
Lockwood also says that Benigno created a "short dance video" for the radio station's sales town hall meeting and he "chose his top rated female employees around the office to dance with him in the video.
Lockwood says when Benigno sexually harassed her, she rebuffed him, "turned red with embarrassment and felt extremely uncomfortable." She also says in the lawsuit that she would have to leave her desk during commercial breaks. She said when Benigno did find her, his producer would have to repeatedly call him to get him back on the air.
---
Lockwood Says Benigno Told a Coworker 'Can't Even Give Her a Compliment' After She Rebuffed Him & Then Retaliated Against Her
Lockwood says in the lawsuit that after she rebuffed Benigno's advances, he complained loudly to a coworker, "can't even give her a compliment."
She also says that she was taunted by her coworkers about it. According to the lawsuit, an unnamed male coworker sent her emails poking fun of Benigno by attaching photos of Anna Nicole Smith sitting on her 88-year-old husband's lap.
Lockwood says the harassment stopped after Mark Zuckerman, her boss, spread rumors about her and another male coworker. Lockwood says Zuckerman and Benigno were known to be close friends. Lockwood says when she rebuffed Benigno, Zuckerman retaliated against her on his behalf.
---
Lockwood Says Her Coworkers Did Whiskey & Pickleback Shots on the Job & Took Prospective Clients to Strip Clubs on the Company's Dime
Lockwood details the "Mad Men" culture in the sales department at WFAN in the lawsuit. She says CBS Radio "fostered a culture that permitted drinking alcohol in the office during work hours and at sporting events. Jameson Whiskey and pickle back shots were often the choice of alcohol and monies were given by the managers to the assistants to buy the liquor."
She said in 2016 and 2017, male managers and sales executives, including her boss, Argaman, drank shots in the office on Fridays with their assistants. They also permitted alcohol to be served to employees and their clients at CBS Sports Radio events. Ad execs were given a budget for alcohol of about $2,000 per game if hosting clients, but more could be approved. Lockwood describes what she says happened in December 2015 on a party bus during a tailgate party at a Jets/Giants game:
Defendants chartered a luxury bus that was owned by another client to transport clients from their radio station to MetLife stadium. Plaintiff's supervisor, Argaman traveled on the luxury bus with Defendants' clients. The luxury bus was equipped with a stocked refrigerator containing alcohol for clients and employees attending the event. Tequila was served at 10:00 a.m. on the way over to the stadium and alcohol continued to be served once the clients and the employees entered the company suite for the Jets/Giants game.

At this event, one of Defendants' clients was so intoxicated he fell down in the suite and later passed out on the bus ride home. During the rowdy event, the client damaged the bus by shattering a marble counter when opening a beer bottle. Defendants were made aware of the damages incurred by their client who owned the bus.
Lockwood says that when one of her colleagues hosted her clients at a Yankees game in her absence, she checked in with him to see how things were going. She claims he responded by saying one of the female guests wanted to, "suck his d*ck."
Lockwood also says the radio station and her managers knew and permitted the practice of taking clients to strip clubs in hopes of bringing in new business. She said one of her coworkers took clients to a Yankees game and then a strip club. According to the lawsuit, he used Argaman's business credit card to pay for the trip. He then told his coworkers the "sordid details" of the trip while hungover the next day and sought reimbursement for two prostitutes he says he bought, according to the lawsuit. Lockwood says Argaman's reply was, "do you think we'll get the business?"
Lockwood says Argaman would comment about her personal life, telling her once, "if you were a football player in the draft your pick would drop from 1st round to 8th round." She also says Zuckerman spread a rumor that she and a coworker were spending time together and had been "fooling around" at the office. She says HR did nothing about the "false rumors."
Lockwood also claims in the lawsuit that various employees were rumored or known to be having sexual relationships within the office.
---
She Says CBS Radio Fostered a 'Bro's Club' Where Male Managers Favored Male Employees Over Her & Other Females Despite Their Strong Performance
Lockwood claims in the lawsuit that there was a "Bro's Club" environment at her workplace, where male managers favored male employees over her and her female coworkers. She says males were given lower sales quota numbers, were assigned to more lucrative accounts, were given bigger expense accounts and were given access to things like the Yankees Legend Box on Opening Day to attract better clients.
Lockwood says in the lawsuit she was given a higher goal and was criticized more often by her bosses.
According to the lawsuit, Lockwood's former employers interfered with her ability to find a new job. Lockwood says in the lawsuit that when she applied at another radio group, the prospective employer emailed CBS Radio to ask about her. She says her supervisor gave negative information that prevented her from being hired.
"Defendants' defamation of Plaintiff and interference with her economic opportunities has adversely impacted her reputation in sports radio on a national level," the lawsuit states. "In comparison, Defendants have protected and supported their male talent and radio personalities from adverse action and damage to reputation despite some having been brought up on criminal charges for misconduct."
---
Lockwood Says She Was Punched in the Face While Trying to Break Up a Drunken Brawl Between Colleagues Over Whether Floyd Mayweather or Conor McGregor Was the Better Boxer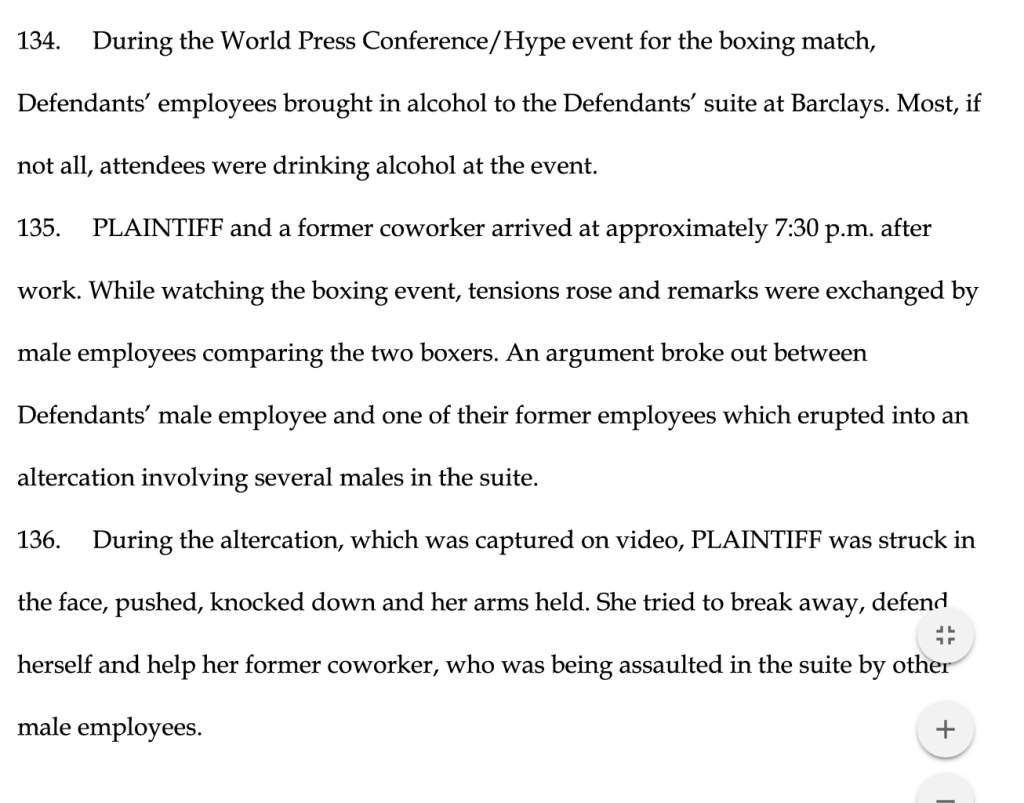 Lauren Lockwood says she was fired after an incident on July 23, 2017, at a luxury suite at the Barclays Center in Brooklyn. She says in the lawsuit that she was attending a Mayweather/McGregor Hype Tour Boxing Match at the arena along with various employees and clients who were invited to the CBS Radio suite.
Lockwood says alcohol was brought into the suite and most, if not all, of the attendees were drinking. According to the lawsuit, she arrived with a former coworker about 7:30p.m. after work.
"While watching the boxing event, tensions rose and remarks were exchanged by male employees comparing the two boxers. An argument broke out between defendants' male employee and one of their former employees which erupted into an altercation involving several males in the suite," according to the lawsuit. "During the altercation, which was captured on video, (Lockwood) was struck in the face, pushed, knocked down and her arms held. She tried to break away, defend herself and help her former coworker, who was being assaulted in the suite by other male employees."
Lockwood says she was called into a meeting the next day with Argaman and HR director Margaret Marion and was told she was being fired for inviting her former CBS Radio coworker into the suite and for acting "erratically." Her boss told her she was being "held responsible for the entire drunken altercation in the suite."
Lockwood claims she was fired without proper cause and without a proper investigation and without a review of the evidence, including the video. Lockwood says the video shows her being assaulted, with her arms held, and being knocked down while trying to defend herself as well as she could while being one of the only females in the suite among drunken male employees who were fighting.
Lockwood says none of the male employees involved in the brawl were disciplined.
You can read the full lawsuit here: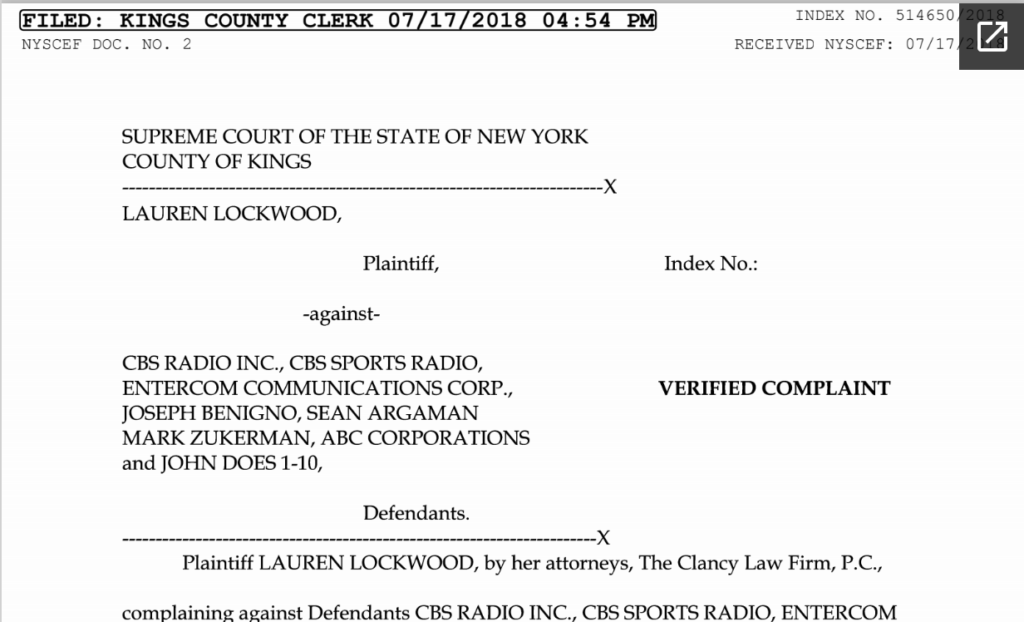 Carpenters' union inches toward independence, but members say monitor ignored problems
Attorney says monitor ignored sexual harassment allegations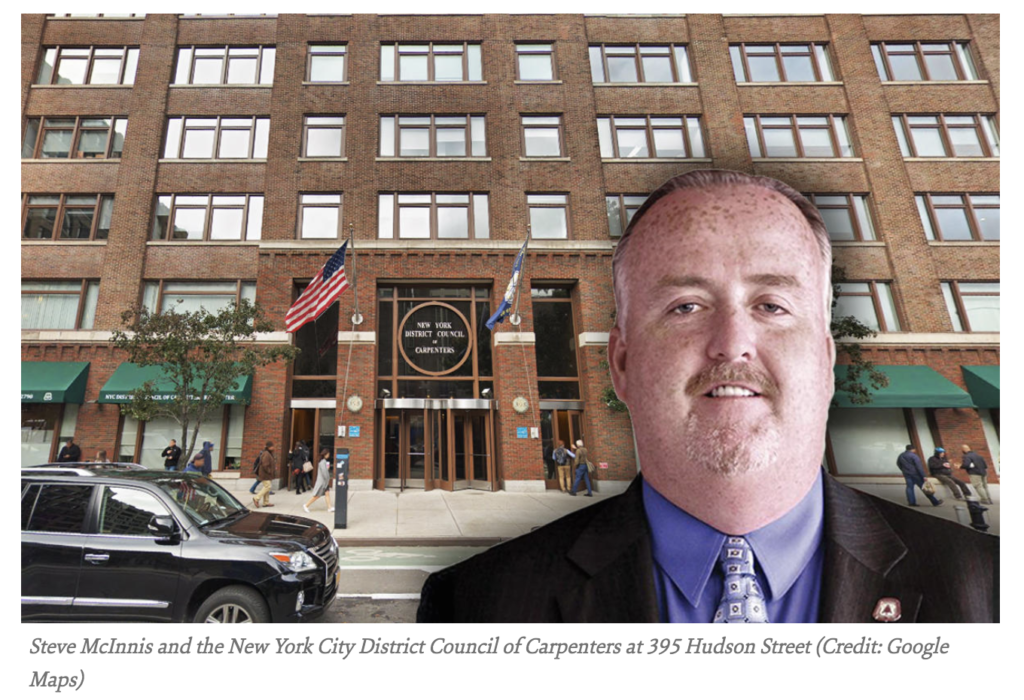 It's been nearly a decade since several members and leaders of the city's carpenters' union were last indicted on racketeering and fraud charges. Since then, the New York City District Council of Carpenters has implemented several changes to help keep the group corruption-free. But some think the union hasn't gone far enough.
During a status conference in Manhattan Federal Court on Friday, Donna Clancy, an attorney for two fired union members, said the organization's independent monitor, Glen McGorty, failed to take immediate action over accusations against the group's then-president. She said that a female employee, who still works for the District Council, notified human resources of inappropriate behavior by Steve McInnis, who resigned in February amid unspecified misconduct allegations. In a letter to Judge Victor Marrero earlier this month, Clancy said McInnis had stepped down following allegations of sexual harassment.
McInnis had been re-elected to his post in late December, and Clancy said McGorty was aware of the allegations before that point. The worker's complaints were ignored, Clancy said, and she was forced to continue working under "hostile conditions."
"She should've been taken away from working with this person," Clancy said.
In a letter to the judge earlier this week, McGorty said there had been rumors that an employee complained to human resources about McInnis, but said no such report was made until Dec. 18. He launched an investigation at that point because "allegations of McInnis' conduct finally came to light in a sufficiently credible, specific and actionable manner." He noted that Clancy's clients — Michael Donnelly, a former labor organizer, and Peter Corrigan, a former business agent and Local 212 member — had notified the union's investigator about the rumors but both also had "ample personal reasons to discredit" McInnis. (Corrigan's uncle was part of an opposing campaign in the election, and Donnelly blamed McInnis for his being fired, according to McGorty.)
Though Clancy asked the court to intervene to assure that her clients didn't face retaliation from the union, she ultimately agreed to bring the issue to the union's inspector general, a new watchdog position within the organization. Clancy declined to comment further after the conference concluded.
A recurring theme of Friday's conference was the issue of the union's monitorship, which is a result of a 1994 consent decree with the federal government to help weed out the influence of organized crime in the organization. But even after a monitor was appointed, problems persisted. In a 2011 report — two years after the organization's leader was indicted — the union's-then monitor noted that mob ties still loomed large.
On Friday, Executive Secretary-Treasurer Joseph Geiger noted that in the past four years, the union created two watchdog positions — inspector general and chief compliance officer — and have taken other steps to assure that "corruption that may be lurking out there" doesn't find its way back in. He didn't specifically address the allegations made by Clancy but noted that issues with certain union members persisted.
"There are still some dissident members who will stop at nothing to undermine the leadership team," he said.
Marrero asked McGorty at what point the union will be able to operate without a monitor. McGorty said that he hopes his role is much less "intrusive" by the end of his current term, which ends in March 2019. Still, he said the requirements of the 1994 consent decree — which barred union officials from affiliating with organized crime, among other things — would remain a permanent fixture. He also said that an independent party will always be needed to oversee the union's elections. Ultimately, though, it's not yet clear when the union will be monitor-free.
"My goal was to be the last monitor," McGorty said. "I don't know if that will happen."